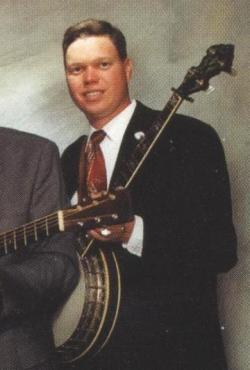 We mourn the passing of our dear friend and former band mate Jake Jenkins. Jake along with his parents Dan & Dorothy Jenkins were tragically killed in an airplane crash March 27th 2011 near Jake's home in Dickens, Texas. Your thoughts and prayers have been appreciated.

Jake was an original member of the band when we started in 1993. His contributions to the KSBC sound as well as bluegrass music in general have been monumental and will not soon be forgotten. He will be greatly missed.

Jake is survived by his wife Rhonda Jenkins, a son Eli Jenkins, two daughters, Maggie Marie Jenkins and Ella Rose Jenkins all of Dickens, Texas and one brother, Jason Jenkins of Brenham, Texas. Cards and letters may be sent to Rhonda at 882 County Rd 138, Dickens, Texas 79229.

We assembled this tribute CD released through the newly formed KSBC MUSIC label with songs written by Jake during his time with KSBC. It consists of 11 songs previously recorded on Rebel records amongst three different projects and one song released here for the first time. Proceeds from the sale of this compilation directly benefit Jake's wife and children. Other memorial contributions may also be made to a benefits account for Jake's children, c/o Rockdale Federal Credit Union, 1812 W. Cameron, Rockdale, Texas 76567.